Detailed Explanation of Fedar15-Head Digital Printing Machine
02/25 2022
Although the 3-day 26th DPES Guangzhou International Advertising Exhibition officially came to an end on the afternoon of February 18, the brilliant printing speed, realistic printing effect and high-definition picture printing quality of Fedar digital printing machine made many Visitors remain enthusiastic even after the show is over. Many customers have left messages to inquire about the detailed parameters of Fedar printing equipment, hoping to quickly find a model suitable for their own enterprise, and introduce new equipment and put it into production as soon as possible.
Here, Fedar Textile Printing would like to thank all new and old customers for visiting. At the same time, it also brings you a detailed explanation of the two 15-head digital printing machines exhibited at the exhibition, hoping to help you.
During the exhibition, Fedar Spinning and Printing exhibited a total of 2 equipments, namely FD61915E and FD51915E.​
As a pioneer of high-speed digital printing machine, Fedar FD61915E is equipped with 15 Epson I3200-A1 nozzles and a 10,000-meter retractable system, which truly realizes unattended printing. Once launched, it has been sought after by many printing factories.
Product advantages:
Epson I3200-A1 nozzle, a single nozzle with 3200 nozzles, high printing accuracy and fast printing speed in the same working area. Epson adopts ALL MEMS (Micro-Electro-Mechanical System) manufacturing process, thin-film piezoelectric elements, precise arrangement of nozzle holes, compact print head, high speed, good quality and durability. Epson's unique VSDT (Variable Droplet Technology) can freely control the size of the ejected ink droplets, thereby reducing the graininess of the picture, showing more picture details, smooth color transition and high saturation.

Independent research and development of multi-column arrangement of printheads, with the fuselage to achieve high cost performance, can freely adjust the height of the printheads according to different printing consumables, widely used and easy to adjust.

The advanced intelligent nozzle cleaning and moisturizing device provides safe and convenient nozzle cleaning and maintenance functions, making operation and maintenance more convenient.

Gigabit network data transmission port to meet the requirements of digital printing high-definition picture output stability and transmission speed.

The 10,000-meter retractable and unwinding system can be upgraded.

High-end imported accessories: THK mute guide rail, Japanese NSK bearing, German igus ink chain, Leisai servo brushless integrated motor…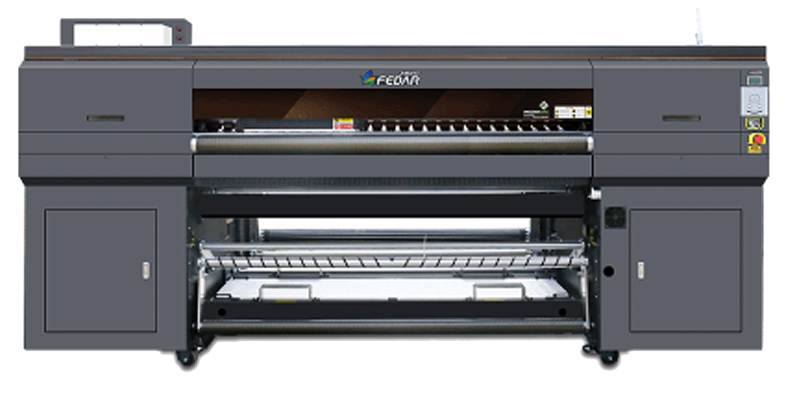 As a rising star of high-speed digital printing machine, Fedar FD51915E can print more than 300 meters in 1 hour. It does not need plate making and sizing, and it can be printed immediately. The MOQ is small and the delivery speed is fast. It can easily solve the troublesome dark and light color products and samples Difficult color transition puzzle.
Product advantages:
Double THK linear ultra-quiet guide S-level: In high-speed motion, it can effectively reduce the resistance and noise in the running of the ink car, and ensure the smooth running of the guide rail and lower noise.

Adopt constant tension pendulum type paper retraction control system: to ensure that the paper is evenly stressed during the entire printing process, the paper is flat and compact, and the paper is not tightly retracted.

High-standard platform and beam adjustment method: ensure that the flatness of the beam and platform are controlled within the accuracy of 3S.

750w independent servo motor: high-precision drive linear decoding, higher precision, smaller length error, and more stable performance.
Slotted Suction Print Panel: Rejects wrinkles.
Equipped with 3 3600W intelligent segmented drying systems: to ensure more energy saving while drying.
This exhibition allowed more users to see the strength of Fei Die spinning and printing, and the outstanding printing quality of Fei Die digital printing machine has won the favor of many customers. In the future, Fedar Textile Printing will continue to keep pace with the times, dare to innovate, continuously improve product technology and quality, boost the development of the digital printing industry, and serve global customers.
In addition to covering 4-head machines, 6-head machines, 8-head machines, 15-head machines, etc., there are many models with special widths, such as 2.2 meters, 2.6 meters, 3.2 meters, 4.2 meters and other ultra-long models. The wide range of digital printing equipment, with a complete range of models, can provide users with a comprehensive and complete printing solution. Users can choose the most suitable digital printing equipment according to their own needs.