DTF Pet Film FD65 Textile Printer
07/18 2022
DTF Printing is more and more popular in the whole cloth printing market, and DTF Printer of Fedar makes a great work, today I would like to share with you our Fedar FD65 DTF Pet Film Printer.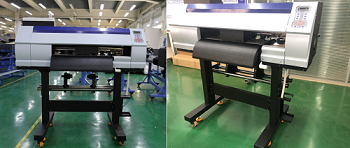 1.This FD65-2 DTF printer is equipped with 2 pcs original Epson i3200 A1 heads, with high printing precision and fast speed, ensure perfect printing output, 4pass speed can be 12sqm/h.
2.Humanized and beautiful design, visualized operation screen, more convenient to check printing progress.
3.Support 60cm printing width, more patterns can be printed at the same time, high efficiency, low cost, big profit.
4.Support pigment ink CMYK+White color printing, the image color is fuller, and transfer effect is more vivid.

5.Anti-collision device on carriage, effectively avoid hitting and damaging print head.
6.High precision platform, error is plus or minus 7 wires ensure excellent printing works, suction platform making film goes more smoothly.
7.Use HIWIN liner guide rails, carriage moves more stable and noiseless.
8.U.S.A rubber pinch roller, reduce static electricity and ensure even paper feeding, improve printing efficiency.
9.Leadshine servo and stepping motor, higher accuracy and smaller length error, more stable performance.
10.Front&middle&back heating, make the ink stick to film harder, and better printing effect. Temperature controller, monitor temperature in real time, easy adjustment.
About how to heat transfer the printed film on fabric:
Cutting off the images and set the heat press machine with 150-170 degree, then put the film on the fabric with correct direction, and heat press for 10 to 15 seconds. After temperature going down, peel off the film and the images will be firmly stick to the fabric.