Recommended in this issue: FEDAR FD51915E Digital Printing Machine
06/07 2022
With the progress of the times and technological innovation, digital printing machines have risen in the industry with advanced digital printing technology and have become the choice of more and more printing people. Especially in economically developed areas, such as Shanghai, Guangzhou, etc., the proportion of digital printing machines is increasing. The more economically developed areas, the greater the proportion of digital printing machines, which is an inevitable trend of economic development to a certain stage. Faced with this industry trend, Fedar digital printing machines have been continuously transformed and upgraded, and the 15-head digital printing machine FedarFD51915E has been launched, striving to bring better digital printing products to the printers in the industry.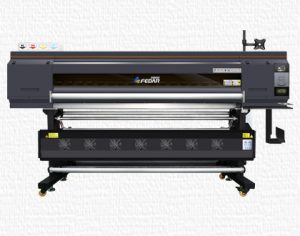 Recommended reason:
1. Industrial steel mainframe: the thickness of the left and right high-strength quenching process base, mainframe, and wall panels is not less than 10mm, and the machine runs more stably.
2. Double THK linear ultra-quiet guide rail S grade: It can effectively reduce the resistance and noise in the running of the ink car during high-speed movement, and ensure the smooth running of the guide rail and lower noise.
3. Adopt constant tension pendulum type paper retraction control system: to ensure that the paper is evenly stressed during the entire printing process, the paper is flat and tight, and the paper is not tightly retracted.
4. Optical fiber data transmission: meet the requirements of digital printing high-definition picture output stability and transmission speed.
5. Equipped with 3 3600W intelligent segmented drying systems: to ensure more energy saving while drying.
6. High-end configuration: rubber strip expanding roller, NSK bearing, high-quality silent drag chain, double drag chain structure design, standard retractable and unwinding motors all use standard 0.35kw three-phase asynchronous motors, matched with industrial gearboxes, and optional Equipped with double servo 10,000-meter feeding system (feeding 1kw, receiving 0.75kw).
7. There is no need for plate making and pulp mixing, the whole process is controlled by computer, printing and printing, and the operation is simple and convenient. Its independent research and development of multi-column arrangement of nozzles, combined with the body to achieve high cost performance, can freely adjust the height of nozzles according to different printing consumables, widely used and easy to adjust.
8. There is no limit to the pattern color registration, and the size of the repeating unit can also be determined freely, and the concept of fabric edge can be ignored within a certain range. Therefore, you can carry out various designs according to your own preferences. This freedom of design enables designers to give full play to their innovative ability, be more creative in the performance of pattern composition, and bring new ideas to designers in the application of fabrics. point. Through the change of pattern design and creation method, the visual field of fabric pattern effect has been expanded, and special pattern effects rich in change have been produced, such as three-dimensional effect, motion effect, mixed effect, light effect, psychedelic effect, tie-dye effect, Watercolor effects, texture effects, simulation effects, neon effects, etc.
application solution:
As an alternative to traditional printing, digital printing has been widely used in the printing of clothing, home textiles and other fabrics.
The ever-changing digital printing technology is constantly being upgraded, upgraded, and upgraded, and the related equipment configurations are also constantly being upgraded. There are more and more digital printing equipment manufacturers on the market. When choosing digital printing machine equipment, you must Keep your eyes open and choose a reliable source manufacturer of digital printing equipment. Fedar Spinning and Printing has developed a variety of models for different industries. Now there are digital printing machines with different widths such as 1.9 meters, 2.2 meters, 2.6 meters, 3.2 meters, 4.2 meters, etc. to meet the diverse printing needs of customers.
Fedar Printer focuses on DTF Printer, Sublimation Printer and Textile Printer (https://www.fedar-printer.com/) more than 15 years. Fedar is a Professional Manufacture of Printers in China.
At present, Fedar products have been sold to all over the world, including U.S.A., Canada, Germany, Poland, Brazil, Peru, Australia, Russia, Singapore, South Africa, India, Thailand, Philippines, Pakistan and other more than 30 countries.