FD70 DTF Pet Film Printer with 2 Epson Heads
07/08 2022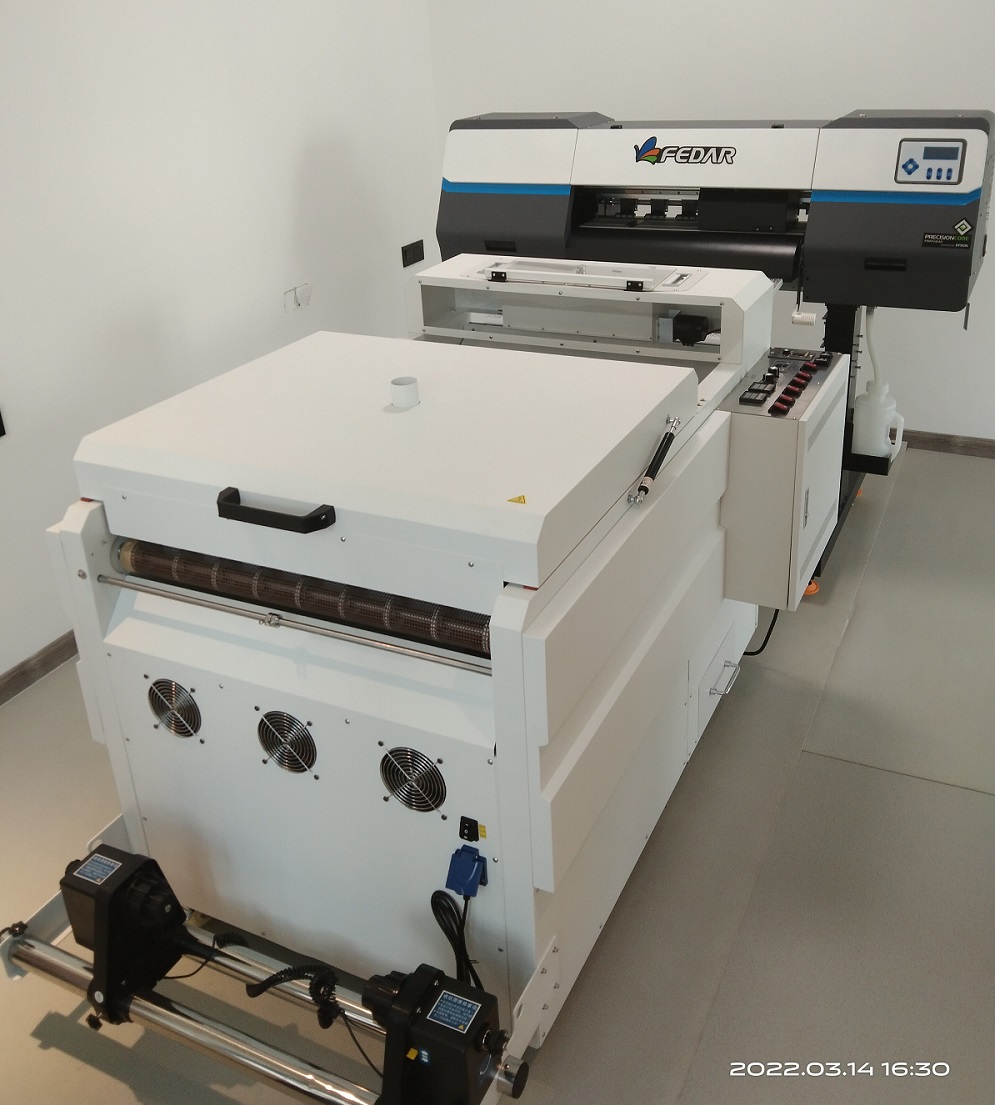 1.This FD70-2 DTF printer is equipped with 2 pcs original Epson i3200 A1 heads, with high printing precision and fast speed, ensure perfect printing output, 4pass speed can be 12sqm/h
2.Humanized and beautiful design, visualized operation screen, more convenient to check printing progress.
3.Support 65cm printing width, more patterns can be printed at the same time, high efficiency, low cost, big profit.
4.Support pigment ink CMYK+White color printing, the image color is fuller, and transfer effect is more vivid.
5.Adjustable capping station, automatically cleaning and moisturizing, can pump ink well and keep ink flow fluently.
6.Anti-collision device on carriage, effectively avoid hitting and damaging print head.
Powder Shaking Machine M2
After printing work, here it comes to powder shaking and oven heating. This powder shaking machine model M2 is newly upgraded generation, after we get real feed back from our end user.Now let's see how does it works.
Firstly the printing work going through the heat plate, with electrical heating to prevent oil coming out of from the film.
Then pour powder into the powder box. Through control box, you can adjust the speed, time and dosage of powder pouring, to ensure the powder spreading more evenly.
At the machine both side, each has a collect powder box ( before only one box), it's more convenient for customer to operate.
On control box we can see Each button adopts leather cover design to prevent powder entering the button and causing breakdown during production.
Then film going down and bypass the lever, and put it on the conveyor belt, each layer has two fixer to make sure film going correctly and smoothly. the mesh speed control with manual and auto mode to choose. Mesh direction to control going forward or backward,
Mesh suction to control suction force of the platform.
Dusting switch to control powder pouring time and interval time, shaking switch to control speed. To make sure the powder sprinkle on the printing pattern evenly.
The oven drying can be adjusted by curing button, with 100-150 degree heating the powder will melt on top, and stick on the pattern.
The smoke filter suck away the smoke from the top, creating a cleaner and comfortable working environment.
At last, film will pass through intelligent cooling fans and automatic taking-up system.
Let me show you something very cool, you can separate powder machine into two parts, which is very easy and convenient for customers to put it in working room.
About how to heat transfer the printed film on fabric:
Cutting off the images and set the heat press machine with 150-170 degree, then put the film on the fabric with correct direction, and heat press for 10 to 15 seconds. After temperature going down, peel off the film and the images will be firmly stick to the fabric.