A Digital Printing Machine with Both Speed and Width-Fedar FD5328E
08/18 2021
In recent years, the development of digital printing is in full swing, and the upgrading and iteration of digital printing equipment is relatively fast. Take the thermal transfer digital printing machine as an example. Many models are eliminated not because the product is unusable, but because the speed is too slow to satisfy Can not meet the demand for capacity expansion. Followed by various special printing requirements, such as printing width. The digital printing machine we are going to introduce today is a digital printing machine with both speed and width, strength and quality coexisting-
Fedar FD5328E digital printing machine
.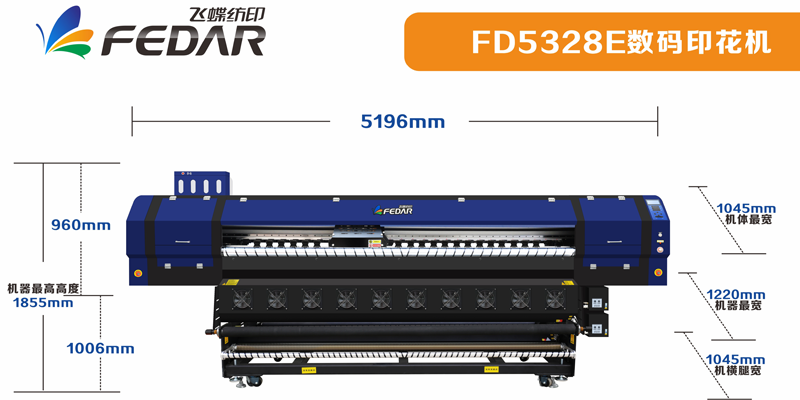 Advantages
●Adopt Epson I3200-A1 print head, TFP thin film piezoelectric technology + 2.5pl variable dot ink drop function, precise positioning of ink drop, richer and fuller image color level, more exquisite printing effect.
●The advanced intelligent nozzle cleaning and moisturizing device provides safe and convenient nozzle cleaning and maintenance functions, making operation and maintenance more convenient.
●Anti-collision frame: The position of the nozzle can be adjusted according to different printing consumables. Anti-collision devices are added at both ends to provide more comprehensive safety protection for the nozzle.
●Inflatable shaft type rewinding and unwinding system: the rewinding and unwinding system supports 40g paper 1500m full rewinding and rewinding, supports a maximum roll diameter of 400mm, has a large load bearing weight, long service life, uniform loading and unwinding force, and air inflation Short deflation operation time and other characteristics. The unique swing bar in the rewinding and unwinding system ensures that the paper is evenly stressed during the entire printing process, and the rewinding is smooth and tight, and avoids not being tightened.

Application field

Zhengzhou New Century Digital (Fedar Printer:
www.fedarprinter.com
&
www.fedar-printer.com
) Focus on Fedar Sublimation Printer, Fedar Textile Printer and Fedar DTG Printer have already used in digital textile, advertisement, home furnishing and customized design. The products have passed ISO9000 and CE certification, owning the trust of most consumers.
At present, Zhengzhou New Century Digital (Fedar Sublimation Printer, Fedar Textile Printer and Fedar DTG Printer) have launched more than 30 products, all of which have independent intellectual property rights and invention patents. Up to now, we has obtained 114 patents, including 22 invention patents, 75 utility model patents, and 17 design patents.