FD61915E-A high-end digital sublimation printer
09/06 2023
Specifications: 15-head high-speed digital sublimation printer, 15-liter large-capacity ink supply system, optional 10,000-meter paper base.
Advantages: Stable, accurate, efficient, 1 printing, no waste of resources, no environmental pollution.
Fedar FD61915E-A was developed with attention to details. Compared with traditional processes, it minimizes the use of electricity, consumables, labor costs and time costs, meeting the needs of the high-productivity digital textile printing market.High speed and stability
Equipped with 15 Epson I3200-A1 nozzles, the speed can reach 610m²/h in normal mode; the speed can reach 430m²/h in high-precision mode.
The whole machine adopts industrial hardened steel frame, the overall beam is enlarged and widened, the strength is higher, and the machine runs more smoothly.
In addition, the constant tension swing-type paper retracting and unwinding control system is matched with an industrial-grade reduction motor to ensure that the paper is evenly stressed during the entire printing process and the paper rewinding is smooth and tight.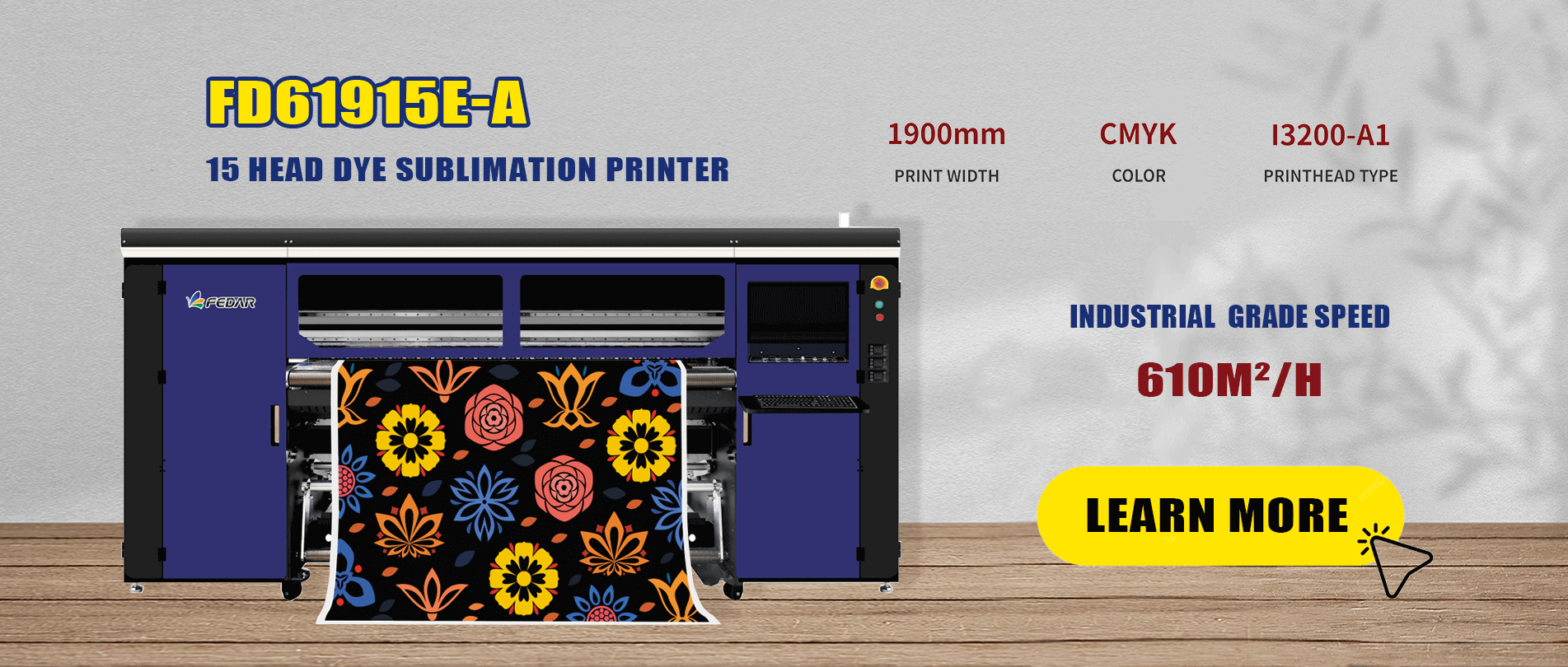 Equipped with linear motor and magnetic grid drive device as standard, the ink cart can better play its advantages in printing accuracy and stability.Super high print quality
The precise nozzles and ink channels made by Epson's unique MEMS technology make the ejected ink droplets close to a perfect circle and precisely positioned at the same time.
Epson's unique VSDT (Variable Ink Droplet Technology) can freely control the size of the ejected ink droplets, thereby reducing the graininess of the picture, presenting more picture details, smooth color transitions, and high saturation.
The new dislocation arrangement of nozzles solves the inconsistency of the left, middle and right effects on the printing platform, which greatly improves the printing quality.
Double THK linear ultra-quiet S-class guide rail: It can effectively reduce the resistance and noise during high-speed movement of the ink truck, ensuring smooth operation of the guide rail and lower noise.
Energy saving and practical
Fedar digital sublimation printer supports thin paper printing, helping customers save costs and improve work efficiency.
Optional 10,000-meter retractable base, flexible typesetting, maximize the use of paper area, reduce resource waste, and save consumable consumption costs.
The Fedar e digital sublimation printer is equipped with an adjustable dryer, and the manufacturer can adjust the power of the dryer according to actual needs, saving unnecessary power consumption.
The use of ultra-high concentration ink saves ink usage, faster drying speed, and lower drying power required, further reducing production energy consumption and effectively reducing production costs.
The whole process of Fedar e digital sublimation printer is controlled by computer, which reduces the intermediate links such as net making and pulp mixing, and greatly saves labor costs.
FD61915E-A has also put a lot of effort into the user-friendly design, such as three-color intelligent alarm lights, integrated electric control box, 15-liter large-capacity ink supply system, and the pressure wheel can support two-level adjustment (single adjustment of the paper pressure wheel) etc., effectively prevent paper from wrinkling.
As a senior digital printing equipment manufacturer, Fedar e Textile Printing has developed a variety of machine models for different fields. It now has digital sublimation printers with different widths such as 1.9 meters, 2.2 meters, 2.6 meters, 3.2 meters, and 4.2 meters. To meet the diverse printing needs of customers.